Child Clothing Project Back In Person!
Junior League of the Emerald Coast and HSU Educational Foundation Partner to Support Local Elementary Students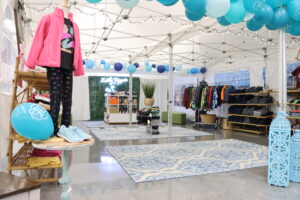 Fort Walton Beach, FL – November 15 and 16, the Junior League of the Emerald Coast (JLEC) held its annual Child Clothing Project – a two-day event to distribute a new wardrobe of clothing to over 300 local elementary school age children in Walton and Okaloosa counties. The event also included enrichment activities provided by the HSU Educational Foundation and other local community partners to broaden the learning experience for the children through hands-on exploration of Science, Technology, Engineering and Math (STEM).
"Since the pandemic, our organization has adapted to a variety of challenges, finding creative ways to take our traditions, modernize them and come back even stronger. This forward-looking approach was reflected in this year's Child Clothing Project. Through our new community-based approach, we are building partnerships that will enhance our ability to serve local children and our community as a whole," said Hilary DeMers, President of the Junior League of the Emerald Coast.
This year's Child Clothing Project featured several novel highlights, including a new pop-up boutique designed and built by Junior League members to create an authentic shopping experience for the children, and a new partnership with the HSU Educational Foundation, which hosted the event and provided STEM activities for the children. Amanda Negron, CEO of the HSU Educational Foundation, described the importance of early exposure to STEM learning.
"Future workforce demands will call for a good foundation in STEM subjects, but performance often begins by developing an interest by discovery through fun activities and awareness of the careers that exist in our community. The HSU Educational Foundation provides these types of youth camps and training programs at no cost to participants," explained Negron. Visit hsu-foundation.org to learn more.
The Child Clothing Project is the Junior League's premier community outreach event, offering eligible children a field trip to "shop" at no cost to receive new clothing items, including pants, shirts, shoes, a jacket, a bag, a book, underwear, socks, and toiletries. The Child Clothing Project is made possible by JLEC fundraising events, individual sponsors, and charitable donations from local businesses. This year, Publix, Winn Dixie, Helen Back Pizza, Crumbl Cookies, Under Armour, the Carter Building Company, LLC, Island Time Mobile Detailing, LLC, Panhandle Pediatric Dentistry, and High Socks for Hope supported the event.
The event also featured a variety of community partners that provided interactive exhibits for the children to explore. The Fort Walton Beach Fire Department, Fort Walton Police Department, Okaloosa County Libraries, Florida Department of Health, Okaloosa County, Eglin Air Force Base, Emerald Coast Science Center, and the Indian Temple Mound Museum participated in the event. Additionally, students from Niceville, Choctaw and Destin High Schools, and representatives from Sundance Rental Management, the Emerald Coast Association of Realtors, and ERA Real Estate provided volunteer support for the event.
About the Junior League of the Emerald Coast:
The Junior League of the Emerald Coast, Inc. is an organization of women committed to promoting volunteerism, developing the potential of women, and improving communities through the effective action and leadership of trained volunteers. The JLEC's purpose is exclusively educational and charitable. Visit www.jlec.org for more information.
###